Eat What You Love, Love What You Eat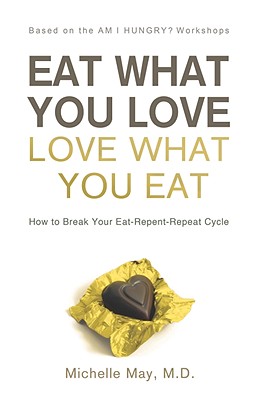 I accidentally bought an intuitive eating book, Eat What You Love, Love What You Eat by Michelle May, MD. I was tricked because she calls it "instinctive" eating, plus she made so much sense in the first chapter. She describes the patterns people fall into as Instinctive Eating, Overeating, and Restrictive Eating. Her explanations were so right on that I bought it immediately, but a few chapters later I was doing "mind-body check-ins" and rating my hunger on a scale. Blaaarf!!!
Chapter 4, What Am I Really Hungry For is a whole thing on head hunger and triggers. She describes each type of hunger and trigger and gives a strategy for dealing with each one. This would have been awesome except it's all that woo-woo emotional floofery that Brain Over Binge cut straight through for me. Analyzing feelings and motivations, giving them more weight, and trying to resolve each issue individually only amplified the problems for me. Mentally stepping back from ALL my thoughts and urges and not taking any of them seriously worked like a charm. That urge to eat a dozen cookies doesn't have anything to do with my childhood, my work schedule, or my lack of bubble baths. It's just brain goo, an old habit that has worn a rut through my synapses because I'd cluelessly repeated the behavior so many times.
By the time I got to the nutrition chapters where she was promoting cutting edge 1980s advice on "hearthealthywholegrains" and "arterycloggingsaturatedfat," I was done. Still, I tend to learn a few things even from books that I don't totally agree with. One clever tool she mentioned was creating a "speed bump" on your plate by physically dividing the food. When you get to the speed bump, you pause and check in. Are you still hungry? Do you really want the rest of that? Could you stop now? It's a clever idea. I do something similar in restaurants when I'm dealing with a ridiculous portion. Sometimes I'll just divide it up with my fork before I start eating. Then I know where my food stops and my husband's carryout box starts.
She does have some gems of wisdom. One of the most important things she talks about is feeling guilty versus feeling regretful. Instinctive eaters sometimes eat too much and regret it. Like, "Wow, I wish I hadn't done that. I'll handle it differently next time." But they don't feel GUILTY, as in, "I'm a bad person, fat pig, weak-willed, hopeless disappointment who will never get this." If you regret something, you learn from it and move on. If you feel guilty, those loaded emotions only fuel the cycle of overeating and restrictive eating.
I do like the term "instinctive eater." It seems more logical and natural than "intuitive eater" which immediately strikes me as being dingbat-related. She describes the various eating cycles like this:
Instinctive Eating Cycle
Why do I eat? - Hunger
When do I eat? - When I'm hungry
What? - Whatever I want
How? - Intentionally
How much? - Enough to satisfy hunger
Where? - Living my life
Overeating Cycle
Why? - Triggers
When? - External or emotional cues
What? - Tempting or comfort foods
How? - Mindlessly, quickly, or secretly
How much? - Until food is gone or I'm uncomfortable
Where? - Excess fuel is stored
Restrictive Eating Cycle
Why? - Rules
When? - According to the rules
What? - "Good" or allowed foods
How? - Rigidly
How much? - Allowed amount
Where? - Energy is spent on diet and exercise
So, that's brilliant, right? I loved those descriptions! At times I've been all of them. Currently I'm an instinctive eater with a touch of restrictive. I keep a pretty tight lid on the "how much" part in order to stay as lean as I like. The overeating cycle is out of the picture now, thankfully.
There is some great information in this book even though not all of it clicked with me. I thought I'd mention it since many of us read pretty much everything on this topic. If you're thinking about it, note that the Kindle edition is like $11 cheaper than the hard copy.
Posted by skwigg at 8:57 AM CDT
Updated: Monday, 9 April 2012 9:01 AM CDT