The Venus Index Phase 2 Review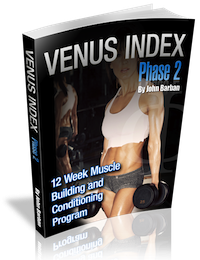 I've been testing The Venus Index Phase 2 for several weeks now. My original plan was to try each of the four new types of workouts once, offer feedback, and get back to what I was doing. The problem is that I fell goofy stupid in love with the new workouts! I want to marry them! So, after my trial run, I went back and started the whole 12 week program from the beginning.
The Venus Index is a women's strength training program from John Barban. If you're not familiar with it, don't scoff. "Women's program" doesn't mean pink dumbbells and leg warmers, it means that it's designed to build muscle in all the right places while stripping fat. The Venus Index is a mathematical formula for determining and working toward your ideal height-to-waist, waist-to-hip, and shoulder to waist ratios. The workouts support the formula by building nice shoulders, shrinking your waist, lifting your butt, and improving definition. Most women love a challenging strength program but they aren't looking to create a wider neck, bigger forearms, or a thicker waist. By doing effective, periodized strength workouts designed specifically for women, you can train hard without adding size to the wrong places.
If you have the original Venus Index, these workouts are totally new. There are four types:
Intermittent Supersets incorporate both regular sets and super sets. The regular sets often (but not always) serve as a warm up for heavier supersets. For example you might do straight sets of reverse lunges followed by heavier, lower rep supersets of squats and deadlifts.
Fibonacci Pyramids are pyramid sets with increasing and decreasing weights and reps. You're doing multiple sets of the same exercise and changing the weight and reps each set. I won't give away the whole pattern but it's killer and I loved it. These show up only every few weeks to shake things up.
X-Sets are triple supersets, two different exercises with ascending and descending reps for three sets. So, you might do 3 supersets of squats and shoulder presses in various rep ranges and weights, catch your breath, flip the exercise order, and do another 3 supersets of shoulder presses and squats. The exercises and rep counts mirror each other in a fairly magical way.
Progressive Venus Pyramids hit the same muscle group with multiple exercises within the same pyramid. The weight and reps vary. Again, I won't give away the pattern. I'll just say that it builds in difficulty, throws a curveball in the middle, and then pushes your endurance at the end. These were my favorites.
You never repeat the same workout, which is so important. I dislike buying a "12 week" program and finding out that it's only a few workouts repeated endlessly. This gives you something new each training session. Most workouts took me around 50 minutes. The Venus Pyramids were closer to 60. The constantly changing exercises, weights, sets, and reps kept me entertained. You do three strength and conditioning workouts per week. Any additional cardio is up to you. I would call this an intermediate to advanced program. If you've been strength training regularly, you'll be fine. If you're just getting started, this might be a little over the top.
Many of the exercises will be familiar to those who have the original plan and the circuits. If you need a refresher, each exercise is clickable within the workout itself to take you to a video demonstration. There is no separate "exercise gallery" to fumble with.
You will need lots of dumbbells. For the pyramid sets you'll need a light, moderate, heavy, heaviest weight for each muscle group. Consider your own strength and goals but you'll probably want at least 5-6 sets of dumbbells in varying weights. A barbell would be handy for a few things but is not mandatory. You'll also need a step or bench and a stability ball.
I really enjoyed the original program but the variety of challenging new routines makes this even better. It's like it was designed it for those of us with workout ADD. Before you have time to get distracted and wander off, your workouts are brand new and exciting again. I've been doing the workouts for a month while tightening up my nutrition a bit. I'm smaller all over with increased muscle definition, which is exactly what I wanted.
If you have any questions about The Venus Index Phase 2, ask away. If you try it out, I'd love to hear your thoughts and experiences.
(Disclaimery thing: Although I am an e-book junky and buy them like candy, I received a free review copy of this program. I use an affiliate link when discussing it. If you buy through my links, I will receive a portion of the sale, fueling my e-book buying habit. As always, thank you for enabling me.)
Posted by skwigg at 6:56 AM CDT
Updated: Tuesday, 26 February 2013 9:55 AM CST