Rice Cooker Mania
I've developed a weird fixation with rice cookers. It started when I bought a bag of plain brown rice instead of my favorite sodium bomb rice mix. I made my first batch in a saucepan on the stove. The whole thing erupted like Mt.Vesuvius, belching starch steam all over the stove, sticking the lid to the pan, the pan to the burner, and the spatula to the pan. It looked like, you know, when the ash hit Pompeii. It left the cooking dolt and all the cooking accouterments frozen in time by starch steam.
The rice itself was quite sticky and gloppy but absolutely delicious. I had to have more rice with less mess, so I started looking at rice cookers. They range in price from fifteen to four hundred dollars and everybody recommends a different one. Zojirushi is the really popular and pricey Japanese brand. Naturally, I wanted that one. I decided the $150 low end Zojirushi would be fun. It has something called fuzzy logic that allows it to outsmart the rice. Also, it plays Twinkle Twinkle Little Star and I'm not even making that up.
After a week of staring at it on Amazon I chickened out. I couldn't bring myself to spend that much money on my first-ever rice cooker, something I might use twice and shelve. I decided to trust the thrifty people who swear the cheap ones work just fine. I ordered a twenty dollar Black & Decker that doesn't look like a spaceship and doesn't play music. My thinking was that if it turned out to be junk, I'd only be out twenty bucks and could still buy the Zojirushi. If it worked I'd save over a hundred dollars.
It totally worked! I tried it yesterday and it made perfect rice without any volcanic activity. You put the rice in using the little scoop, add water to the corresponding fill line, and hit the cook button. It somehow knows when the rice is done and flips over to a warming setting. I stirred the rice once at the end of the cook time and then left it on warm for almost half an hour until I was ready to eat. The rice was fluffy and perfect, the bottom didn't burn or get crunchy, and nothing stuck to the pan.
It has a steamer basket for vegetables that I haven't tried yet. I'm planning to make steel cut oats next and maybe try some other grains. We'll see how long it lasts. I'm guessing a twenty dollar doodad isn't going to be very durable but if it breaks I can always get the Japanese rice spaceship.
Here is the Zojirushi: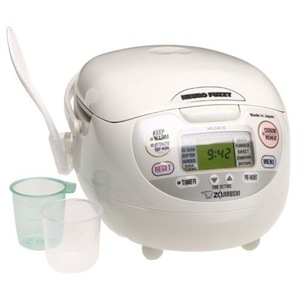 Here is the Black & Decker: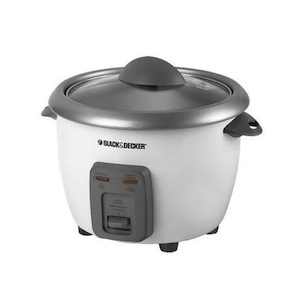 I bought this dealio with my own money but I use Amazon affiliate links in the post. I will receive a small portion of the sale if you buy through the link. See my Disclosure Statement.
Posted by skwigg at 12:15 PM CST
Updated: Saturday, 6 March 2010 12:16 PM CST