Veggie Pizza
I had pizza for lunch today. Pizza does not need cheese in order to be delicious. I wish I'd figured that out ages ago. It would have saved me like a bazillion calories. You may recall that I discovered Amy's Roasted Vegetable No-Cheese pizza at the grocery store and fell in love with it. I have also seen Kashi Sicilian Veggie No-Cheese pizza but I haven't tried that one yet. It had an odd orange color to it that scared me, something about pepper spread. I don't know. Has anybody tried it?
My latest kooky behavior is to order a large thin crust Veggie Lovers pizza from Pizza Hut with no cheese. You don't even have to explain it to a human. They have a "no cheese" check box in the online order form. Amy's blows away Pizza Hut in the taste department, but if your friends are ordering pizza and you don't want to be left out (or be a bloated phlegmy mess from a mozzarella overdose), you can order your own pie with no cheese and have leftovers.
Today, I was thinking about those little pita pizzas I used to make with cheese and pepperoni. I decided to try my hand at a cheeseless veggie creation. Because I'm lazy, all of my ingredients are from jars and cans except for some fresh onion. Take a pita bread, spread it with your favorite sauce, top it with some onions, olives, marinated portabella mushrooms and roasted red peppers. Stick it in a 450 degree oven for 8 minutes. I put it directly on the oven rack so it gets crispy. Delicious! Score! I'll definitely be having these for lunch.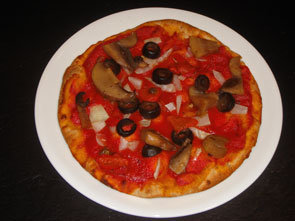 Posted by skwigg at 2:43 PM CDT
Updated: Saturday, 1 August 2009 12:18 AM CDT