Vegetarian Meals
Here are some pictures of what I've been eating lately. I'll have to add these to my What I Eat page. This is a lunch I packed for work last week. I have red bell pepper strips and baby carrots for dipping in the cucumber hummus, a container of lentils and rice, some cantaloupe and grapes, and two fig newtons. I probably should have photographed it before I encased it all in plastic. I sort of want one of those Bento Laptop Lunches, to eliminate the blizzard of Tupperware and plastic bags, but then I'd join the Flickr group and develop some kind of OCD lunch photo complex. Check out all the pretty lunches!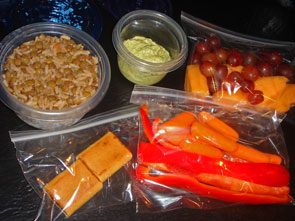 Here's another favorite meal. It's a bean burrito with salsa and avocado. A burrito without sour cream and cheddar cheese was inconceivable to me, but the avocado gives it a nice creamy texture. I learned that you can store leftover avocado in the refrigerator if you leave the pit in it. Something about the pit being there keeps it from turning to black glop. Since I learned that, I've been putting avocado slices on just about everything.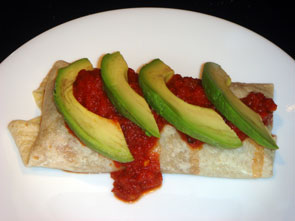 Due to my avocado swoon, the first thing I made from Easy Veggie Meal Plans is an avocado sandwich. I toasted Ezekiel (sprouted grain) bread, spread it with a couple tablespoons of mashed avocado, sprinkled it with a little black pepper and Mrs. Dash, and then layered tomato, cucumber, onion, and red leaf lettuce. It was deluxe, and Spiderman's little red arm sticking out from under the sandwich cracks me up.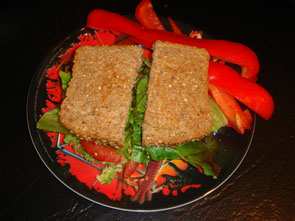 Here's another easy main dish I like to pack for lunch at work. It's rotini pasta with sun dried tomato pesto. I like to eat it as a cold pasta salad.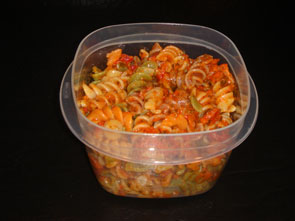 Posted by skwigg at 5:59 PM CDT