The Latest in Casual Freakwear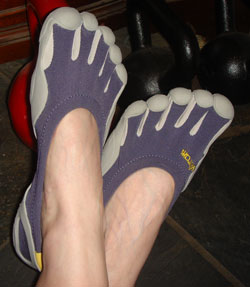 I went to pick up my Vibram FiveFingers shoes. Instead of burglar black or girly pink, I ended up choosing the mauve/sand color combo. It looked the most normal, you know, as much as goofy toe shoes can look normal. I put them on and pranced around the store for a good long while to make sure they were comfortable. Then I cut the tags off and wore them to the grocery store. I got a few funny looks but only one fitness nut pounced on me and wanted all the details.
It's day two now and so far I've worn them driving, grocery shopping, dog walking, and for a kettlebell workout. Nothing pinches, rubs or hurts. The only place I feel the shoes at all is my left little toe. It doesn't like being separated from the other toes. There's a bit of a stretched sensation. I have no such problem with my right little toe. It's been broken so many times it's used to going off in its own crazy direction.
Feeling the ground is completely amazing when your feet have been trapped in cushioned athletic shoes for years. This is going to sound totally woo-woo but I feel like I'm connected to the earth again. I haven't truly felt the ground since my mother wrestled "school shoes" onto me when I was about five. In the VFFs, the sole is a flexible skin and you can feel all the different surface textures - the brake pedal, the gravel driveway, the sandy trail, the soft grass, the bumpy concrete, the smushy mud, the ridges in a manhole cover. I'm fascinated by each new surface and tend to linger and grin. I'm sure I look like some kind of blazing super-dork who's never been outside before.
I haven't put any real miles on them yet. You're supposed to ease into it and only wear them an hour or two a day for the first couple of weeks. That gives all of the neglected ligaments, tendons and stabilizing muscles a chance to realize they're supposed to support themselves again (after decades of being supported by Nike and Saucony). Tomorrow, I'm going to try a hilly walk and maybe a short sprint. I'll let you know if anything ruptures.
I have no affiliation with this product. I like it but I don't make any money if you buy it. See my Disclosure Statement.
Posted by skwigg at 1:34 PM CDT
Updated: Sunday, 8 November 2009 11:04 AM CST