Pizza Brunch and Veggie Questions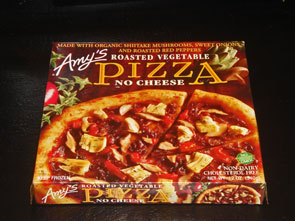 I eat pizza and ice cream every Tuesday. It's a little ritual I've enjoyed for years. Previously, it involved a massive dose of dairy fat. I would have a thin crust cheese and tomato pizza and chase it with a Blue Bunny Champ cone or a single-serving container of Ben & Jerry's. This week, I was a little apprehensive about whether plant food could cut it as a special treat. I should not have worried one bit. This Amy's Roasted Vegetable pizza was eye-rolling delicious! It's mushroom, sweet onion and roasted red pepper in kind of a smoky roasted tomato sauce.
The crust was awesome. I cooked the pizza directly on the oven rack, making the crust crisp on the outside and warm bread yummy on the inside. If I'd eaten this in a blindfolded taste test, I don't think I would have noticed the missing cheese. It was just good. I'm going to buy more of these because I'm positive my non-health nut husband will love them.
I chased my pizza with some dark chocolate Coconut Bliss. It was also rich and delicious and did not disappoint. I learned that you're supposed to take it out of the freezer 5-10 minutes before serving, which makes sense because, even though it has a high fat content, it seems to freeze a little harder than dairy ice cream. Once it gets a bit melty, wow! It's really extra creamy and good.
So, this completes my first week with no animal products except for a handful of milk chocolate M&Ms. I've been adding more plant foods to the What I Eat page. Check out the Scooby snack. That pic cracks me up. I swear I'm going to grow up one day. :-)
I've been getting lots of questions.
Are you hungry? No. I'm not restricting my food intake in any way, so if I feel hungry I eat. I've been eating three or four times per day and feeling great.
Are you getting fat? Not yet. LOL According to that wacky Tanita scale, my weight is completely stable but my body fat percentage is dropping.
Are you bloated and puffy? Again, not yet. :-D The Tanita hydration readings are running about 3% higher than they do when I'm eating meat. A typical bodybuilding protein and vegetables day is probably a little dehydrating - the "lean out" phenomenon. By eating all plants, I'm fully hydrated and carrying a full glycogen stockpile. I'm enjoying the complete lack of water fluctuations. No false celebration when the scale drops 3 pounds after a low-carb meat and veggies day, no false drama when it bounces back up after pizza brunch.
Are you getting enough protein? I'm getting enough protein to look and feel good and train hard. I may not be getting enough protein to create big ripped bodybuilding arms, but I don't want those anymore so it's all cool.
What happened to being a no-rules happy eater? I am having a BLAST with this. There are no rules, I'm not counting anything, I'm not on a diet, I'm not hungry, and the moment it's not fun anymore, I'll be sure to head for the nearest steak house.
I thought you said soy was evil? I still think that loading up on soy phytoestrogens is a bad idea. I wouldn't eat soy every day or at every meal, but I don't see an occasional (like once or twice a week) veggie burger or serving of tofu as a plateful of poison. I did find frozen veggie burgers with no soy. Amy's California Burgers and Sunshine Burgers. I haven't tried either one yet, but they're on my grocery list. The Engine 2 Diet has a couple of veggie burger recipes using black beans or lentils as the base. As soon as I persuade someone to cook those for me, I'll let you know what I think.
What if The China Study is an evil plot written by a bad man with a hidden agenda? I don't care. The food's good. :-) My primary concern is my own lunch/fun/fitness. I remember when I was a new vegetarian how passionate I was, and how hard I tried to convince everyone that my way was right. And I remember when I was a born-again carnivore, how I did the same damn thing taking the opposite side! Now, I don't care if you're vegan or paleo or flexitarian or locavore (new word I learned). You can be an intuitive eater, a competitive bodybuilder, a Weight Watcher, a binge eater, or an obsessive dieter. I love you all and I'm so happy to hang out with you here in cyberspace. Big hug.
Posted by skwigg at 5:23 PM CDT