The Squirrel Thugs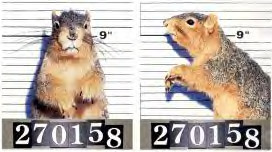 I've created hulking monster squirrels. It started a few months ago when I bought some raw cashews and pumpkin seeds and HATED them. Bleh! Spit! So, I put them outside for the tree rats, who went totally gonzo over them. I tried to control their portions but I noticed that the squirrels in my yard were rapidly becoming twice the size of the other neighborhood squirrels. Eventually, my supply ran out. That's when they began harassing me. They decided it was cool to stand on the porch and cluck, to rattle the storm door, chase me to the car, and peer in the windows at me.
I thought perhaps I could appease the hooligans by buying birdseed at the grocery store. I found something called "Critter Blend." It's a combo of corn, sunflower seeds and peanuts. It's designed to turn squirrels and chipmunks into giant, pushy, territorial hell beasts.
A couple of days ago, my husband was warming up his Jeep in the driveway. He was inside and kind of watching it to make sure nobody tried to steal it. I told him not to worry. Anybody who gets between the Jeep and the pile of Critter Blend will be ripped to bloody shreds by the squirrel mafia.
Posted by skwigg at 10:47 AM CST