My Abby Normal Brain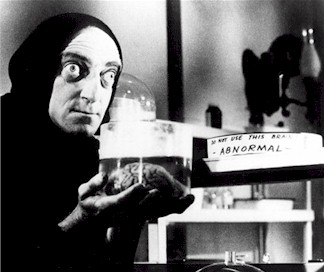 I have recovered my lost brain. It was hiding on the back shelf of the refrigerator behind the green smoothie ingredients. I assured it that we would not be doing anymore fitness challenges with deadlines and it agreed to return to my head and start functioning again.

Now that my brain is back, I realize that I'm doing great. I have not missed a single KettleBelle Body workout all month. My loopy new monkey diet is really fun. I'm eating much less junk and lots of whole foods. My ab definition has returned. My jeans are loose. I'm stronger. I can do sets of Turkish get-ups using the 26lb kettlebell without dropping it in my face or dislocating my shoulder. I think I'm ready for a heavier 35lb kettlebell.
It's all good! I just need to quit tweaking. I know it's the deadline thing that sent me spiraling. No matter how "recovered" I am or how playfully I plan to approach it, if I tell myself that on a specific date I need to be extra lean, impressively defined, measurably smaller, and ultra-photogenic, well, my brain jumps out of my skull and hides in the refrigerator. That's what happens. Now we know. LOL

You may have noticed some changes around here. I decided to ditch the bright orange and hot pink color scheme on the blog and on Skwigg.com. After I did it, I was sad for like five seconds and then my retinas rejoiced. I'm still fumbling around with the layout, so if you see anything weird or problematic in your browser, let me know.
Also, I encourage you to subscribe to my RSS feed (upper left link where it says RSS Feed). If you're fuzzy on how RSS works, you use something like Google Reader to subscribe to various feeds. Then it pulls the content for you so you can read all of your favorite sites and blogs in one place. It's pretty slick and the only way I can keep up with everything I read. I had a little mishap last week when I wrote a whole post on Red Carpet Ready TV and lost it. Poof, gone, whammo. But that post did go out to all of the RSS subscribers. Hopefully, some of you were able to catch the shows. I think they're really fun!
Posted by skwigg at 10:51 AM CST