Challenging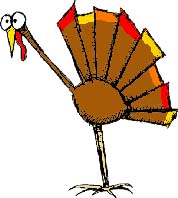 Now I remember why I don't do any type of fitness or weight loss "challenge" during the holidays. There is food everywhere! Catering at work, trays of cookies, restaurant meals, a bazillion freaking pies. Delicious treats abound. Meanwhile I'm drinking blended spinach and eating birdseed. Not that I'm complaining.
No, ok, I'm complaining! I want a donut! ::crying::
Why do I do this to myself? Why did I learn nothing the first eight times I dieted through the holidays, stressed myself out, alienated everyone around me, lost my mind, and then binged in January? I should be able to spot the pattern by now.
I'm still eating mainly monkey food and I still really enjoy it. It's just that... I want frosting. Do monkeys eat frosting? I've seen them wear clothes and smoke cigarettes. Surely they would enjoy a piece of cake. Or pie! Banana cream pie!! What if I put a pie in the blender with spinach? Then could I have it?
Yes, welcome to my brain. It's short-circuiting. :-D
I think I need to step away from the 30-day challenge mindset and into a balanced long term approach. Otherwise, I'm going to be eating whole gingerbread neighborhoods.
I'm actually doing really well if I would quit freaking out. I love the KettleBelle Body workouts. I intend to keep doing them into the spring. There are months of them and they're much more challenging than anything I would come up with on my own. I'm getting stronger and I look lean. I just need to take some of the pressure off so I don't bug out.
How is everybody else doing? Are you cutting yourself some slack through the holidays or are you hitting it hard right now? Are you feeling strong or totally losing it? How about family and friends? Are they being supportive or are they your undoing? Tell me what's up. Let it all out. LOL
Posted by skwigg at 10:27 AM CST
Updated: Tuesday, 2 December 2008 10:40 AM CST