What Would Buffy Do?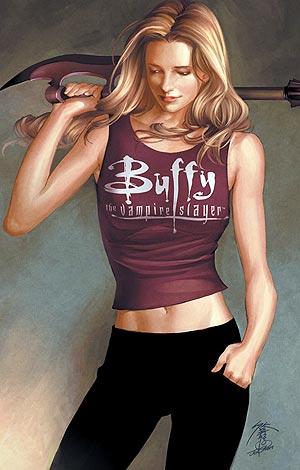 Nearly every day I talk to someone who can't workout and fears that all of their hard work will be blown to bits, that if things don't go exactly as planned, they may as well give up. Allow me to deliver a smack-down.
Messy life stuff is totally normal, not a deal-breaking calamity. I've broken bones, torn tendons, had cancer, got bronchitis, and thrown my back out. I've had surgery and spent weeks in a recliner unable to walk. My mom died. My dog died. My gym closed. My work schedule changed. There was an inner ear infection where the whole world twirled to the left if I moved my head fast. None of that has anything to do with whether or not you're fit!! You can choose to use it as a big honkin' excuse every time, or not.

In the grand scheme of things, those few days where you're unable to exercise MEAN NOTHING. Rest. Feel better. Stay positive. You don't have to put yourself at a big success/failure crossroads every time something comes up. Do the best you can, get past it, and carry on. What else are you going to do? Fail? Sabotage yourself? Does that make any sense? It's like the flat tire analogy. If you had a flat tire, would you get out and flatten the other three? Or would you fix it and carry on? If you have the flu (or any other perceived calamity), fix it and carry on.

Perfection is an illusion. The idea that you can have a perfect workout and nutrition plan and carry it out flawlessly, is just made up drivel. If you hold yourself to that impossible standard, you'll always quit. You'll always fail. You'll always think less of yourself.

Understand that fit people, athletes, champions, successful dieters, vampire slayers, face all of the same life/family/health challenges, they just think about them differently. Did Buffy cry, eat cookies, and get fat every time there was an apocalypse? NO!

If you're struggling right now, if something has come up that seems insurmountable, write and tell me three things you can do today to re-affirm your goals and improve your success. If you can't do an intense workout, can you make a grocery list and plan meals for next week? Can you go buy a fitness magazine? Watch an inspiring action movie starring a kick-ass fit female? Read a motivating book? Order a fitness or kitchen gadget online? If you're going to spend time thinking, think of ways to help yourself, not reasons to fail.
Posted by skwigg at 1:53 PM CDT