The Swing by Tracy Reifkind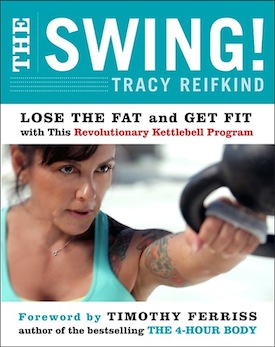 I just finished a good book, The Swing by Tracy Reifkind. I was going to say a good kettlebell book but it's so much more than that. Tracy Reifkind had been overweight her whole life. She weighed 250 pounds the first time she picked up a kettlebell at age 41. Through a change in mindset, an overhaul of her eating, and dedication to swinging a kettlebell several days per week, she lost 120 pounds and became an RKC kettlebell instructor. Her transformation is one of the most inspiring things I've read in years. Let me give you a few quotes from Tracy:
---
"I came to the conclusion that truly healthy and fit people don't have to think about how to become healthy and fit, it's who they are--it's not a chore, a punishment, or even a choice. Forget second nature; for them, it is first nature. The question for me then became: how do you make something first nature?"
"When you are in the zone, you eat right and you do your workouts as if they have always been a part of your life and they will never not be a part of your life. It's what you do, it's who you are, and it officially becomes your lifestyle--it changes from something you're doing into something you are."
"You know, there was a time shortly after I started my diet that I had the thought of never, ever being able to go back to the way I used to eat. I thought about never again eating my everyday lunch of three cheeseburgers and six chocolate chip cookies, and I felt sad for a few moments. I felt like I had just been sentenced to a lifetime of no fun in punishment for my decades of bad behavior. The sadness passed once I realized how ridiculous it was to mourn the passing of an extremely destructive habit."
---
It was fascinating to read about how her perception of herself and food changed. This isn't your typical "here is the history of kettlebells and here are some exercises" book. It's about her inner transformation. She gives details, of course. She shares her workouts. She gives incredibly thorough instruction about how to swing a kettlebell. She shares the food plan that turned her into a really buff chick, which is, surprise, real food, portion control, nothing off limits, and a little intermittent fasting. I was excited to read that like me, she eats basically the same meals most of the week. She also includes one high calorie day and one low one. She talks about the importance of preparing your own food and includes lots of recipes and how-tos.
One interesting part of the book talks about how she accidentally regained 20 pounds by eating her normal healthy food but getting loose with the portions. She went back to eating her basic meals in set portions 4 days per week and lost 10 pounds really quickly. Then she put her high calorie day back and lost another 3. The other 7 she considers part of an acceptable range. She doesn't try to live at her lightest weight ever and understands that she's not going to keep losing scale weight as she continues to get stronger. It was fascinating to read her story. She sounds like one of us!
It slightly threw me that she suggests women eat 1200 calories per day for fat loss. That was her target with the understanding that most days she would go over it. She says that the closer she stuck to that goal, the faster her fat loss. There are a couple of considerations. For example, her only exercise was going for walks and swinging a kettlebell for 20 minutes 2-3 times per week. She wasn't training for a marathon or going to crossfit or anything, so you have to keep that in mind when looking at her suggested intake. Also, she had a high-calorie day every week so she didn't burn out. She doesn't seem to have run into any of the metabolic slowdowns or issues from a continually low calorie intake. And finally, at 250, she had a lot of stored energy to work with. It wasn't like an obsessive 110 pound overexerciser eating in the 1200 range with no breaks.
I would encourage anyone who reads this to do the standard skwigg move of incorporating any ideas that really resonate with you and disregarding anything that makes you tremble and grind your teeth. There is plenty that resonates here! I couldn't get to my kettlebells fast enough after I finished this book.
Posted by skwigg at 8:36 AM CDT
Updated: Tuesday, 27 March 2012 8:36 AM CDT