My New Spine
I've been doing Pilates for six weeks now. You don't realize how jacked up you are until you start getting straightened out. Maintaining the natural curve in my spine used to hurt. Lying on my back hurt. Sleeping hurt. To sleep, I was building an elaborate pillow nest that tipped the curve out of my lower back and totally flattened it. Rather than trying to fix my gimpy spine, I was doing everything in my power not to make it angry. That meant no back extension, no awkward lifting, and no willy-nilly sleeping. It's funny what bothered it and what didn't. Slamming judo throws were no problem, kettlebell training never hurts, but a careless cobra stretch or falling asleep wrong could leave me unable to walk upright for weeks.
My Pilates sessions have been all about alignment, core strength, and keeping my spine neutral and strong no matter what position I'm in. I understand why people find it tedious. All of the tiny movements and attention to detail, especially in the beginning, especially on the mat, would knock an average exerciser unconscious with boredom. But for someone as crunchy as me, it has been an awesome experience to start seeing and feeling a real difference. Here's a good article on Why Pilates Works for Back Pain.
After years of sleeping with a forced-flat back, I can now sleep with a neutral spine and not wake up yelping. That is HUGE. In the past, every time I tried to sleep like a normal person, I would wake up in so much pain that I'd go right back to sleeping like a propped up freak.
The first few nights without my nest were a little rough. I woke up with a somewhat tight lower back, but nothing at all like the stabbing pain I used to experience. I bought a memory foam mattress topper to help with the transition. I sink into it, so my back can have a natural but supported curve. The new sleeping arrangement, the improved spinal flexibility, and the new emphasis on strengthening the holy monkeys out of every stabilizing muscle in my torso has me feeling pain-free and very bendy.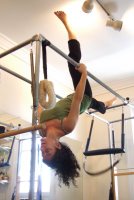 I still haven't been to a mat class. I love the solo equipment sessions. I'm seeing improvements every week in my strength, flexibility, and ability to control my spazzy limbs. You have no idea how spazzy you are until you attempt some of these graceful, tightly controlled movements and end up flapping and tipping all over the place. My favorite gizmo is the Cadillac. That's it over on the left. You can do pull-ups on it and it has a trapeze!
I'm hooked. I was sort of hoping I would hate Pilates and be able to write it off as quackery for sissies, but I love the combination of technical challenge, cool gadgetry, daredevil airborne antics, and surprisingly effective physical therapy. I've been going to the studio once a week and practicing my exercises at home most days. I've also been doing a couple of kettlebell workouts per week, daily dog walks/runs, and occasional hill sprints or
Turbulence Training
body weight HIIT sessions.
Posted by skwigg at 10:12 AM CDT