Healthy Snacks
Amazing factoid - Even though I'm a paranoid hypochondriac conspiracy theorist, I will eat anything that people mail to me.
Gourmet Jerky
This week I received some gourmet jerky from Jerky.com. I tried the buffalo jerky, the teriyaki turkey and the pineapple. I'd never heard of pineapple jerky before. It's a nice option for the non-carnivore. The ingredients are pineapple and honey. The teriyaki turkey was delicious and sweet. It was very tender for jerky. It made a great afternoon snack with a piece of fruit. The buffalo jerky was black pepper flavor, tasted amazing, and I only got two bites of it before my husband disappeared with the whole bag while making "om nom nom nom" sounds.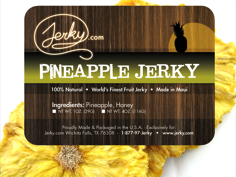 The pineapple jerky has the core in it. It looks like a pretty flower instead of a pineapple ring. I foolishly tried to bite into the flower and tear it with my teeth. Don't do that; you'll pull your teeth out and/or create an embarrassing drool situation. It's much easier to tear it with your hands and pop bite-sized pieces into your mouth. It's kind of like a fancy fruit roll-up. It made a nice portable carb portion.
Unlike the junky stuff you find at gas stations and convenience stores, this jerky has no MSG or nitrates and uses quality ingredients like sun-ripened pineapple and grass-fed bison. In addition to the standard turkey and beef jerky, Jerky.com carries varieties like venison, ostrich, buffalo and alligator. (No, I wasn't daring enough to eat Wally Gator.) My only complaint is the price. Shipping is free, but if you want to eat gourmet jerky on a daily basis, it's not exactly thrifty. Still, it's a healthy treat and would make a great gift for a foodie.
Protein-Boosted Yogurt
Next up, I received a temperature-controlled shipping container full of high-protein yogurt. I was very excited by the cooler tech! It looked like I had received a brain in the mail.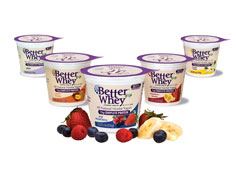 Better Whey of Life is yogurt with added whey protein. It has 15-17 grams of protein per serving, or about three times more than regular yogurt. It has much less sugar than most brands (about 14g) and is sweetened with natural cane sugar. There's no artificial sweetener and no high-fructose corn syrup.
In the past, I've tried to eat Greek yogurt for the higher protein content but I thought it tasted like goat throw-up. I'm a big kid. I like grocery store yogurt, you know, with flavors. So, I was really happy to find yogurt that tastes great, is high in protein, is not loaded with sugar, and comes in flavors like peach mango, strawberry banana, French vanilla, and acai mixed berry.
Right now, it's only available in health food stores and Whole Foods Markets, but it's not at every Whole Foods yet. So, be sure to check the Where to Buy link before you trek across town looking for it.
So far, I've had the acai mixed berry flavor and it was great. Tomorrow for breakfast I'm planning to have French vanilla with some sliced strawberries and a sprinkle of granola. This is something I'll definitely be eating regularly once I can get it at the store. The air mail brain cooler situation isn't very practical.
I have no affiliation with these products. I like them but I don't make any money if you buy them. See my Disclosure Statement.
Posted by skwigg at 10:18 PM CDT
Updated: Sunday, 8 November 2009 11:14 AM CST