Naturally Thin for The Non-Elf
I've had Naturally Thin a couple of weeks now and I've had a chance to incorporate some of Bethenny Frankel's ideas. Let me tell you what I did not incorporate - her tiny elf-sized portions. I am not an elf. I don't want to be a size 0. It never occurred to me to eat the same amount she eats, but all of the portion talk did lead to some eye-opening revelations.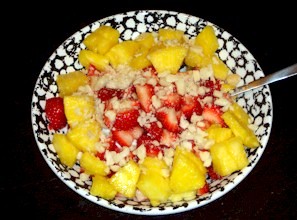 First of all, those black and white salad bowls I eat out of all the time are flippin' huge! They're nearly the size of dinner plates and they're deep. That's perfectly acceptable for a big leafy salad, but it's really bad for breakfast. I was still loading them up every morning with half a tub of cottage cheese, half a pineapple, a bunch of berries, a handful of macadamia nuts, and a couple tablespoons of sugar. That 800+ calorie breakfast was perfect when I was training 2-3 hours a day, but it's overkill now. I've scaled the whole thing back to a cereal bowl. It's just as satisfying and frees up a few hundred calories for more variety later in the day. Duh!
The next ah-ha was the "Check Yourself before You Wreck Yourself" chapter where she talks about never binge eating. I haven't had a mindless blackout food-sucking zombie episode in at least a decade. I tend not to hurt myself and I never feel guilty, but I do (or did) overeat fairly regularly out of habit. I can eat a whole thin crust pizza and an entire pint of Ben & Jerry's like it's nothing. It's probably leftover mental goo from the Body for Life "free day" concept. If you only have one chance to enjoy a big splurge for the week, you'd better go for it. I don't need to do that anymore. Lately I've been having one or two pieces of pizza and an ice cream cone. I still get to enjoy the pizza and ice cream thrill but for about a thousand calories less.
And finally, eating in restaurants is more fun with the new strategies. Restaurant eating used to flip me out. Unless it was a designated day to go off my plan, I would get all twitchy and turn down invitations. Or I would agonize over the online menu trying to reconcile what I should eat with what I really wanted. I like her "taste everything, eat nothing" approach. I didn't take it literally! I definitely eat. I order whatever I want, I taste everything that looks good, I share, and I save leftovers for another meal (or two or three). Then I leave the restaurant happy and non-stuffed. I can do this every day of the week, so there's no need to be an anti-social freak when friends want to eat out.
Maybe my take on the book is different since I'm a normal weight and a basically healthy eater. Maybe a desperate dieter would latch onto her exact portion sizes, or a disordered eater would take "taste everything, eat nothing" to mean you can never eat a satisfying amount of food, but I found many of her suggestions really helpful.
I definitely needed to downsize some of my meals. I needed to put the BlackBerry down, turn off the computer and pay attention when I eat. I liked the "point of diminishing returns" concept. Maybe the first couple of bites are fantastic, but the third, fourth, or fifth bite isn't quite as mind-blowing. Why eat the whole thing just because it's in front of you? I had become a plate-cleaner due to years of clock-watching and measured portions. If it was time to eat, I would eat exactly what I had planned and I would eat ALL of it. It didn't matter if I was hungry or if I even liked the food. And sharing? Forget sharing! At the height of my dieting and obsessing, I would have stabbed somebody in the neck with my fork rather than part with a scrap of chicken.
So, I found Naturally Thin to be a friendly reality check, nothing more or less. I don't recommend anybody become a lemming, or jump on a band wagon, or fall off the wagon, or anything with wagons or rodents or cliffs. Thank you. LOL
Posted by skwigg at 8:49 PM CDT