The Benefits of Kettlebell Training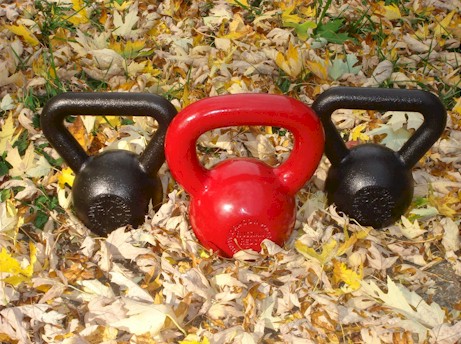 I'm trying to remember the last time I picked up a dumbbell. It's been weeks. Why, you ask? Well, I've gone goofy stupid over kettlebells. Oh, how I love them! Let me count the ways:
1) Nearly every exercise is a total body strength move. Want to pick a heavy kettlebell up off the floor and press it over your head? Well, let's see, you need your quads, your hamstrings, your glutes, your abs, your biceps, your chest, your shoulder, your back, and your triceps. Oh, and your fingers, forearms, feet, and eyebrows are working too.
2) Nearly every exercise is a heart-pounding cardio move. Try swinging a big hunk of iron through the air and using every muscle in your body to control it. It pegs your heart rate and burns a crap ton of calories.
3) It's current. The fitness trends now are about total body training instead of body part splits, big compound movements instead of isolation exercises, standing free weight and body weight training instead of seated machines, high-intensity interval training instead of slow boring cardio, functional power and flexibility instead of isolated part sculpting, time efficiency instead of 90 minute "arm" days. Kettlebell training delivers on all counts.
4) It's old school. It doesn't get more old school than Russian strong men, or more simple than using one weight as your entire gym. If you have a body and you have a kettlebell, you're set. You can do an almost endless array of pushing, pulling, pressing, squatting, lunging, twisting movements.
5) It's time efficient. Because you're training strength, balance, flexibility, and cardio at once, kettlebell training doesn't take all day. You can get a compete and killer workout in a 10-minute blast.
6) It's fun. It's addictive. It's like nothing else. Even though it's possible to do very brief kettlebell routines, you won't. You'll be grinning like an idiot and swinging that thing all over the place. To stop you, someone may need to knock you out and pry it from your hands.
I've included a picture of my babies. I bought the 26lb Russian Red first. It's perfect for swings but was a little heavy for learning single arm overhead stuff. Kettlebell movements can be fairly explosive. I didn't want to rip my rotator cuff and knock myself out, so I bought an 18lb kettlebell (and then a second one) for more variety. I hope to get another Russian Red for Christmas, a 35lb this time!
When people ask me what weight to start with, 15-18lbs is probably good for most women, or 20-26lb if you're freak monkey strong. And of course, you'll move up from there. :-) If you have injuries or are very out of shape, you might start with a 10lb but you will outgrow that weight VERY quickly. Kettlebell training involves the biggest muscles in your body. So, consider what your legs, hips and core can do, not just what you can curl or press.
Wondering where to get these things? Try Target. No kidding, Target! They carry GoFit kettlebells in a variety of sizes. They also have Iron Core instructional DVDs. If you can find your kettlebell at a Target or a local sporting goods store, it will save you a fortune in shipping charges. If you need to buy online or you NEED one of those shiny Russian Reds, I bought my kettlebells from Dragon Door. Amazon also carries a variety of them.
For workouts, I've quickly become a huge fan of Caroline Radway's KettleBelle Body. I bought it and reviewed it a few weeks ago. In spite of the pink and blue color scheme, it is NOT a fluffy program. Her workouts are pure evil genius and would flatten most guys. They're HARD but they're totally modifiable for beginners. The more of them I do, the more I fall in love. Kettlebells, body weight training, and yoga are a simple and beautiful combination. I'm not missing barbells, treadmills and clanky weight machines AT ALL, and I'm not going back to the gym. You can't make me!
If you're interested in getting started with kettlebells and getting in shape for the holidays, Caroline Radway has created a new Ning community for female kettlebell fanatics called Mission Slim-Possible. There is a kettlebell transformation contest starting Monday, November 10th. I'm in! Sorta. I joined the group and I'll be participating and cheerleading. What I won't be doing is giving myself a mental breakdown over photos, calories, measurements and competition. I'm having fun! This is waaay too much fun for me to ruin it by obsessing and being a freako. However, if you're a normal person and actually motivated by a deadline and a little accountability, wooohooo!!! This is a great opportunity to receive kettlebell instruction and support and get in killer shape.
Posted by skwigg at 11:35 PM CST